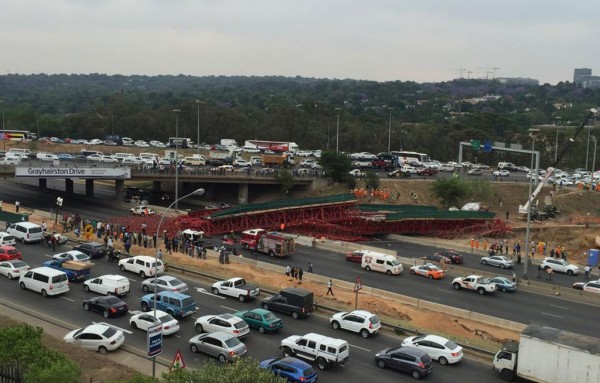 After months of delays and several postponements, the M1 Grayston Bridge inquiry resumed on Tuesday 26 September – only to be postponed promptly once again. In the weeks prior to the resumption, the Department of Labour's Teboho Thejane said, 'Families that have been waiting to hear all the arguments so that they can put this matter to rest, to hear what has happened and if there are any people that are responsible for this. But at this point… we're waiting to hear the arguments.'
So what happened?
The inquiry resumed with the cross-examination of an expert from Formscaff. The engineering expert presented new evidence, relating to what may have caused the temporary structure around the pedestrian bridge to cave in, and this will report will need to be studied.
The inquiry has experienced several delays since the deadly collapse almost two years ago. The Johannesburg Development Agency's legal representative Willem Le Roux says the postponements are unacceptable: 'This is a very serious matter and proceedings have been dragging on unnecessarily.'
Legal representatives from construction company Murray & Roberts will now be studying the report the expert witness presented as new evidence in the probe. Murray & Roberts were taken by surprise by the Formscaff expert's presentation of new evidence while being cross-examined.
Le Roux says the inquiry cannot afford any more delays. 'At this stage, it's close to two years after the occurrence of the accident. It's undesirable for proceedings to be delayed to such an extent.'
Meanwhile, the inquiry's presiding officer Lennie Samuel insists despite today's delay, all expert witnesses will be cross-examined by the end of this year, and says he took the decision to adjourn Tuesday's proceedings to maintain the integrity of the commission.
Read our previous coverage of the M1 Grayston Bridge collapse
Sources:
http://ewn.co.za/2017/09/26/m1-bridge-collapse-inquiry-expected-to-resume
http://ewn.co.za/2017/09/26/inquiry-into-m1-bridge-collapse-postponed-again
http://www.labour.gov.za/DOL/media-desk/media-alerts/grayston-bridge-inquiry-to-resume-in-september