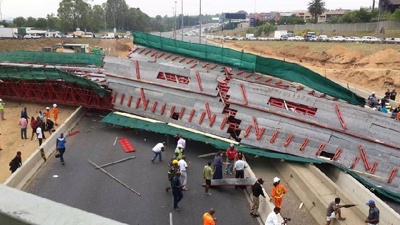 As you are aware, this enquiry has suffered multiple postponements for various reasons. Here's where it stands as of today.
The Department of Labour's (DoL) inquiry into the collapse of the Grayston drive pedestrian bridge, on Gauteng's M1 highway – which resulted in the death of two people and the injury of a further 19 – has been postponed, possibly until July, 2018. The presiding inspector Lennie Samuel said that he would make a decision on this within the next two weeks.
This is the fifth postponement of the proceedings
Samuel said he would consider new submissions made by the legal team representing Murray & Roberts (M&R), the construction company responsible for the bridge.
The inquiry was meant to resume at the end of March, and continue for 21 days, to hear further evidence. Johannesburg Development Agency (JDA) representative and ENSafrica Mine and Occupational Health and Safety director Willem le Roux said, 'These dates [were] set aside by the department seven months ago. However, no concrete reason for the postponement has been given'.
Le Roux added that, to date, the only progress made in the inquiry were testimonies given by experts from representatives for M&R and the scaffolding company Formscaff. This took place during July and August last year. 'They all agree that the bridge collapsed as a result of structural weaknesses, [which] led to the wind blowing it over.'
The JDA commissioned the construction of the bridge. JDA senior development manager Siyabonga Genu expressed concern in the delays resulting from the various postponements and stressed the importance of finalising the matter as soon as possible. He pointed out that the inquiry dates were cancelled by the DoL on March 10, owing to alleged 'technical challenges'. The JDA and City of Johannesburg are awaiting full particulars from the DoL for the postponement.
The hearing of further expert testimony may take another three months
This will be on behalf of M&R and Formscaff, along with other testimonies. As Le Roux pointed out, 'The objective of such inquiry is to determine the cause or causes and underlying causes of an accident and to make recommendations for remedial measures to prevent a recurrence of such or similar accident. It is therefore of the outmost importance that the inquiry be finalised as soon as possible,' said Le Roux.
The bridge collapsed 17 months ago, with the inquiry initially said to be completed in the six months that followed. The JDA recently announced the resumption of construction to the bridge.
Read all our coverage of the Grayston Bridge collapse to date:
What did we learn from the Grayston Bridge Collapse?
Construction of the Grayston Bridge resumes
Sources:
http://ewn.co.za/2017/03/14/labour-dept-postpones-inquiry-into-grayston-bridge-collapse-again
http://www.engineeringnews.co.za/article/grayston-bridge-inquiry-may-be-postponed-to-july-2018-2017-03-27