---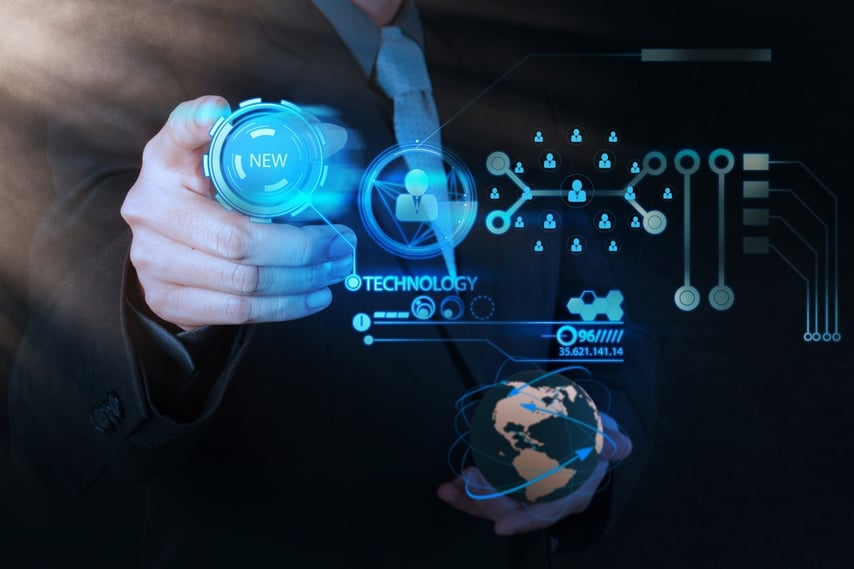 Technology has a tremendous impact on communication. Those who are early to adopt new technology typically have a competitive advantage, which allows them to stay ahead of their competition.
Conversely, failing to identify and adopt advancements in technology has had irreparable consequences for several well-established businesses. So, what is technology's impact on the health and safety industry?
Connected with the latest in safety technology trends is the effect of global megatrends on occupational health and safety, an area in which our NOSA Head of Innovation, Dr Deonie Botha has been conducting research. Today we take a look at how these can have a direct (and positive) impact on how you currently train your staff on health and safety in the workplace.
---
1. E-mobility
E-mobility technology offers the potential for increased mobility and accessibility, while reducing pollution and its effects, as well as bringing down the attendant costs of operating regular machinery. This also means the training attached to the operation of conventional machinery will change (and possibly diminish) as certain risks are removed.
2. Virtual world (e.g. fluid interfaces)
The virtual world will expand the platforms upon which training is conducted, by offering 3D simulated environments with greater interaction and experiences that will have an impact on an employee's personal mobility.
3. Innovating to zero (e.g. zero emission technologies, zero harm)
This could mean zero breaches of security, debt, defects, waste, emissions from cars and complete recyclability, which will all have a direct impact on how we choose to (and need to) train in the workplace, because ultimately all this will hopefully lead to zero accidents.
4. Robotics and autonomous systems
Autonomous systems can result in better health and safety conditions, presumably because there is a smaller margin for human error. However, automated equipment can create new hazards, which will have an impact on how you decide to conduct your health and safety training.
5. Space jam (e.g. congested satellite orbs)
The commercial market will be driven by broadcast. By 2020 over 900 satellites will be launched globally, creating multiple innovative applications. This means developments in mobile satellite service (MSS), voice and data applications and bundling IPTV.
6. World War III (e.g. cyber warfare)
With advancements in technology, information warfare is anticipated to be the next domain of conflict.
7. RoboSlaves
These will be pervasive robotic technologies developed in the next five years that will function as 'slaves' or assistants in everyday life, e.g. robots used for welding, drilling, material handling, packaging and transportation. This will change the landscape of businesses and the accompanying training.
8. Emerging transportation corridors
The integration of trans-border rail systems will result in greater industrial and business hubs. This will diminish the need for air travel, take congestion off the highways (people will drive smaller distances) and encourage car sharing. This will have a subsequent effect on how people choose to work, which will also change the make-up of company training.
9. Complexity science and swarm theory
How do the simple actions of individuals add up to the complex behaviour of a group? Here, the theory is all about providing us with insights that can help manage complex systems, from truck routing to military robots. The key to colony thinking is that no one is in charge – no managers or boss ant workers. Instead, functioning relies instead upon countless interactions between individual ants, each of which is following simple rules of thumb. Scientists describe such a system as self-organising.
How these megatrends are changing the health and safety industry
1. They allow for the real-time collection of data
The use of portable devices to capture complete data in real time is becoming increasingly important within the health and safety industry. In fact, studies show that 82% of contractors believe that the use of technology on the field, like smartphones, has a positive impact on safety performance. Using mobile devices, safety professionals can make the workplace significantly safer by capturing hazards, completing audits, and accessing training documents electronically and in real time.
2. They reduce administrative work and create transparency
Electronic data transmission technology has also eliminated the need to physically transport paper data from the field to the data entry site. This reduces time spent on entering and processing the information for safety professionals, who can instead allocate time towards risk reducing activities. Digitising data also makes the information more:
accessible
shareable
actionable
while also making the process more transparent.
3. They make safety managers responsible for change management
Incorporating modern technology mostly implies a change in the way you conventionally undertake processes. As technology continues to be part of the safety initiatives, safety managers and professionals will have to become change managers as well. Even though technology today is made to be very user-friendly, research shows that there is an average of 70% failure rate of corporate change management initiatives. But, there are four main reasons for this:
Management fails to communicate the importance of the change
Employees don't have a suitable role model (i.e. the safety professional is not leading by example)
There is no incentive for change (the initiatives must have reinforcement mechanisms)
Lack of skilled personnel (it is critical that the organization continuously improves, adapts to scale, and understands where the gap in skills exist so that the necessary steps can be taken to acquire these skills)
4. They make it easier to track lead indicators
With technology, the focus of health and safety professionals is changing from relying on lagging indicators to leading indicators. Lagging indicators are easy to measure but limited in their ability to help proactively prevent future incidents. Leading indicators, however, are typically harder to measure because they are activity and behaviour-based. This is precisely why 80% of companies, in a study conducted, indicated that they wanted to track leading indicators, but only 15% of them were actually doing so. Modern technology, however, has made tracking leading indicators more feasible and can close the gap between those wanting to track leading indicators and those who are actually doing so.
5. They increase transparency throughout your organisation
When Paul O'Neill, the CEO of the industrial giant Alcoa, stated that he would focus on making Alcoa the safest company in the US, he got severe flak from analysts who believed that such an undue shift in priorities would hurt the stock value of the company. O'Neill, however, was adamant in making health and safety a priority. He had a custom safety software programme built to improve data and increase transparency. He also actively encouraged employees to engage in the process and demanded that management take employee participation and suggestions for safety seriously. This resulted in instilling a sense of ownership amongst the employees, who started to not only voice their concerns related to health and safety, but also about other operations, which resulted in an increase in the output of Alcoa's plants.
Related posts:
A retrospective of 2016 trends and what this means for 2017
Innovative mining technologies and the effect of man machine interaction on OHS
---
Sources:
http://www.ecompliance.com/2016/01/25/the-top-5-ways-technology-is-changing-the-health-safety-industry/
https://jesi.io/using-technology-improve-safety-workplace/
https://ohsonline.com/Articles/2015/05/01/Technology-Megatrends.aspx
http://www.fao.org/ag/agn/nutrition/national_urbanization_en.stm
http://www.wvi.org/sites/default/files/Rapid%20Urb%20Ec%20Growth%20%26%20CWB%20Low%20Res%20Final%20010414.pdf
file:///GIL_Abu_Dhabi_Mega_Trends_V1_Ppt_and_Workshop_M.pdf
---