---
Today we further unpack the differences between King IV and King III. So let's dive in.
A quick recap
As discussed in What are the key features of King IV?, the application or adoption of the principles is assumed in King IV.
The fundamental philosophy and concepts of King III won't change, so companies will therefore continue following King III as it stands. King IV will also aim to be simpler, and easier to interpret and access. One of the ways to achieve this will be by clearly differentiating principles from practice recommendations. Principles will be stated as higher order objectives.
Example
Your board of directors must be constituted in a way that balances power to ensure objective decision making. A way to ensure this is achieved will be to have a majority of independent directors on the board. This is a recommended practice for listed companies currently included in King III, but due to the associated cost it may be prohibitive for smaller entities and therefore different practices might be appropriate.
This approach also emphasises the outcome envisaged by the principle and allows for flexible application.
The improved succinctness and streamlining of King IV means it is more accessible on mobile and tablet devices, and the King Committee is aiming to enable companies and other entities to disclose their application on King IV online.
King IV at a glance
To get an overall understanding of how King IV will be applied, take a look at the following infographic.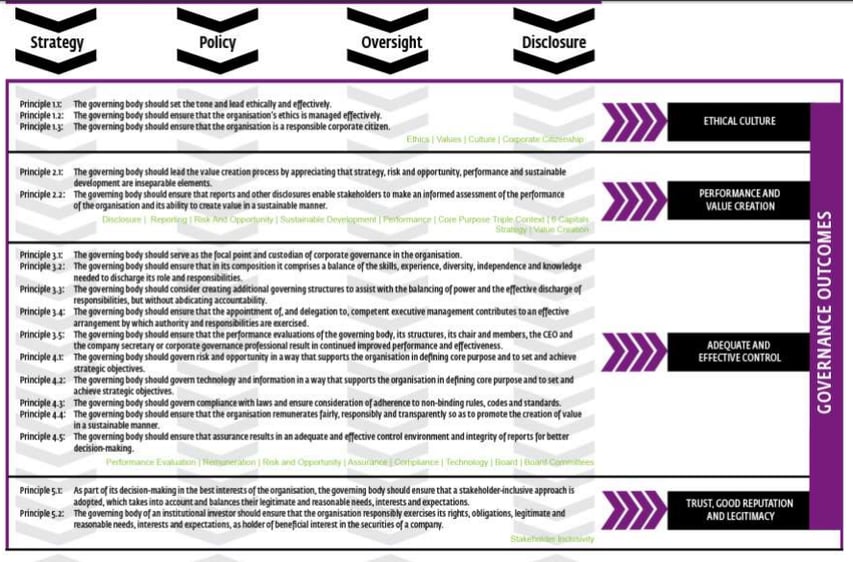 ---
Sources:
http://c.ymcdn.com/sites/www.iodsa.co.za/resource/collection/16F4503D-86F9-43D5-AEB4-C067B06EB59C/Guide_to_questions_and_answers_on_King_IV.pdf
https://www2.deloitte.com/za/en/pages/africa-centre-for-corporate-governance/articles/kingiv-report-on-corporate-governance.html
---