---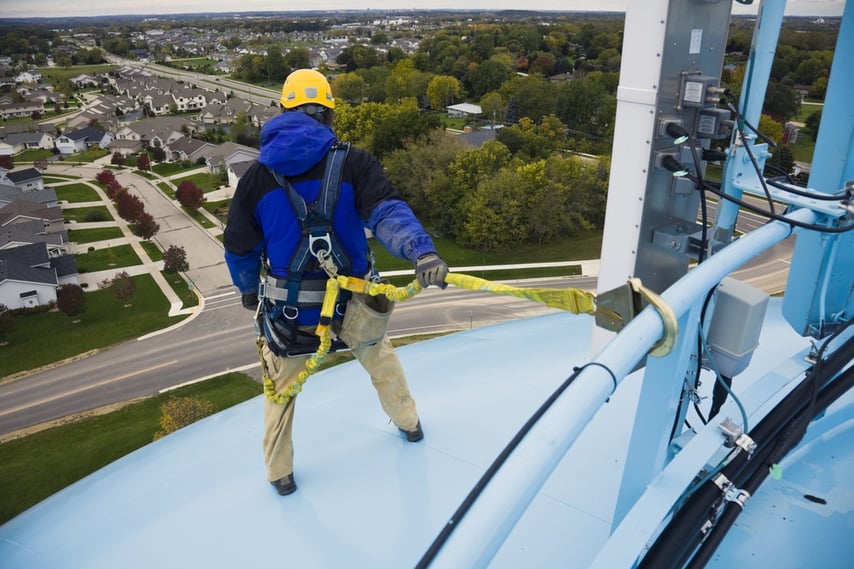 Safety while working at heights is such an essential part of of your occupational health and safety practices that it usually has its own designated group of skilled professionals monitoring processes and procedures. Here at NOSA, we certainly do.
With this in mind it's a good idea to know exactly what equipment you'll need to effectively manage and mitigate your working at heights risk, in conjunction with the fall protection plan you already have in place. This blog post sets out to do just that.
---
Anchor slings
These are used to attach to the structure where the connectors are too small to do so.
Shock-absorbing lanyard
This is used as a personal fall device. Connect the shock absorber section to the back-dorsal D-ring. Ensure that it is properly closed. Connect both hooks to the D-ring, to the work positioning lanyard. Most harnesses have "parking points" where hooks can be attached to when not in use.
Double action hook and quick link
Used as a connector to join the fall arrest device between anchor point and full body harness.
Hard hat with chin strap
While the hard hat protects your head, the chin strap ensures that it fits comfortably and is connected and locked.
Rope grab device
Used as a rope grab device on temporary vertical lifeline and permanent lifeline systems.
Safe working load: Generally around 150 kgs.
Karabiners
Used as a connector to join the fall arrest device between anchor point and full body harness.
Full body harness
Used to connect your fall arrest system and work positioning systems. Ensure that all buckles are closed and locked into place and that the chest strap is positioned in the centre of the chest. Tighten all loose ends and tuck them away. Always make sure that the leg straps are tight enough to only fit a finger under the webbing. Both loose ends on the shoulder straps must be the same length.
Check the harness label for the following:
The standard it is manufactured to;
The serial number;
The date of manufacture.
Safe working load: Approximately 120 kgs.
Trauma step/suspension loop
Used to prevent suspension trauma during emergencies.
Work positioning lanyard
Used for work positioning to have both hands free. Ensure that the work positioning belt is placed above your hips and pulled as tightly as possible. When in use, the lanyard must be attached to both side attachment points as the worker is suspended over the edge. Connect both hooks to the D-ring.
Working at heights accessories
Descender
Kernmantle dynamic rope
Anchor sling
Rope access seat
Rope protector
Open round sling
Equipment/carry bag
Handle ascender/jumar
Mailion/quick link
Oval karabiner
D shape quick link/demi rond mailion
Chest ascender
Triangular mailion/triangular quick link
D-shape karabiner
Kernmantle low stretch rope
Etrier/tape ladder
Need a quick reference guide to maintain your office's health and safety compliance? Use the following checklist to stay on top of your legal obligations.
Sources: