South Africa's law on smoking is very clear. Its law on vaping and e-cigarettes? Less so. South Africa has become progressively more restrictive on when and where its citizens can light up, and its penalties for non-compliance are appropriately punitive. But when it comes to e-cigarettes, does any legislation currently exist on what we can and can't do? This blog will break down what is currently known regarding the legal implications of vaping.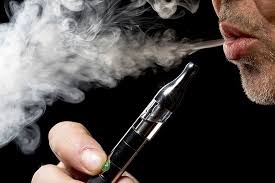 The popularity of e-cigarettes is growing… and growing
According to How Stuff Works, e-cigarettes were first developed in China and were introduced to the American market in 2007. Known as electronic nicotine delivery systems (ENDS) the device emits doses of vaporised nicotine that are inhaled. It's battery-operated and can also emit non-nicotine vaporised solutions. According to Medical News Today the manufacturers of the e-cigarette say they are an alternative for tobacco smokers who want to avoid inhaling smoke; indeed, it's since been used as an alternative to smoking real cigarettes.
What do health professionals have to say about it?
The important thing to remember is this is a nascent product, meaning that it is in the early stages of its existence, and therefore the full scope of how it can affect users is still being investigated and assessed. As Dr Yussuf Saloojee, Executive Director of the National Council Against Smoking (NCAS) says, 'The NCAS isn't against e-cigarettes, but we need more evidence on the health effects before we can endorse them. They're still so new – they've only been around for a decade. Revisions are being made in this field almost on a daily basis.'
So where can you vape?
Here's where the line becomes hazy, because it is not a cigarette and it does not contain tobacco. Mark van der Heever, spokesperson for the Western Cape Department of Health, says that as ENDS don't contain tobacco, they can't be read into the definition of 'tobacco products' in terms of the Tobacco Control Act, which provides SA with one of the world's tightest set of smoking laws. 'But ENDS products resemble cigarettes, so they can be seen as challenging the denormalisation of tobacco use. For this reason, the Department is considering amendments to the legislation, to ensure e-cigarettes are regulated,' says Van der Heever.


Speaking of which, here's what SA's government has planned…
Minister of Health, Dr Aaron Motsoaledi, is keen to increase smoking legislation to incorporate e-cigarettes. According to an interview he gave on World No Tobacco Day last year, he believes that electronic cigs should be treated the say way as normal tobacco cigarettes:
'We are looking at it very carefully. In the last framework [at the] Convention on Tobacco Control of the World Health Organization held in South Korea, the decision was that we need to package e-cigarettes as just any other type of cigarette. There is a trick here. Some e-cigarettes have nicotine, which means they are just as bad as cigarettes – other don't have nicotine,' he said. 'Now that is a trick by the industry, saying that governments must only deal with those that have nicotine, which means I as a minister must now spend money to find out which ones do not have nicotine.'
In the US, the Food and Drug Administration (FDA) recently set out Deeming Rights (guidelines) that e-cigarettes should be classified as 'tobacco products'.
The FDA also added that e-cigarettes stores that produce their own liquid for use in e-cigarettes are considered tobacco manufacturers, so anybody making their own juice is now a tobacco product manufacturer.
Among the other regulations set out by the FDA, this will have an impact on where people can use their e-cigarettes if they fall into the same strict tobacco laws.
South Africa has historically been a leader in introducing tobacco laws, and if Minister Motsoaledi turns to the FDA regulations, South Africa could follow suit in classifying e-cigarettes as tobacco products.
Bottom line?
Until new laws are released and enforced, vaping in public spaces, such as malls and restaurants, is left to the discretion of the owners of such establishments. The same applies to companies, and how they choose to police their staff.
Sources:
http://www.news24.com/SouthAfrica/News/5-things-you-should-probably-know-before-vaping-20141014
http://www.news24.com/MyNews24/is-south-africas-strong-stance-on-smoking-set-to-cover-e-cigarettes-too-20160811
http://www.htxt.co.za/2016/06/02/sas-health-department-to-go-after-e-cigarettes-with-smoking-laws/