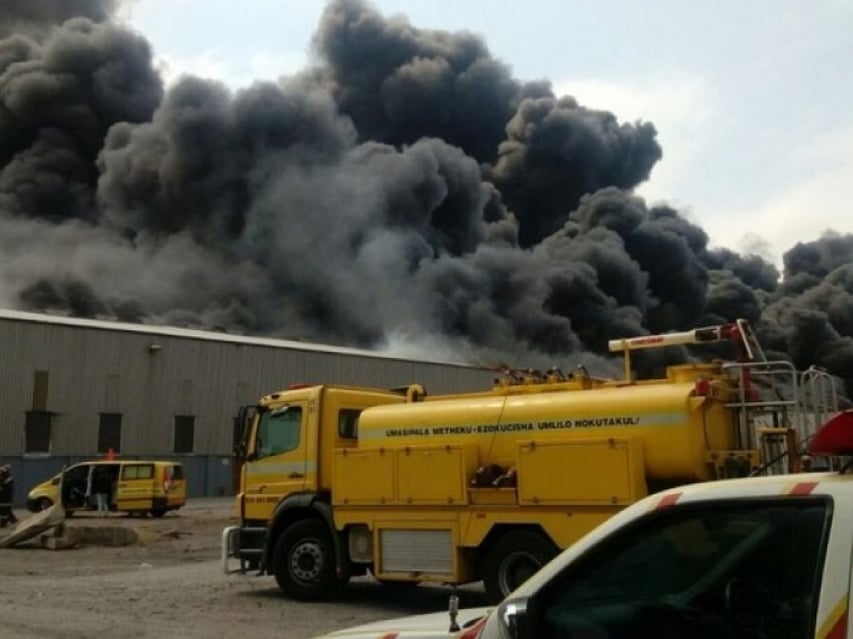 Remember when the Durban skyline was blackened by a fire that blazed within – and without – a local factory. The fire broke out on the morning of Friday the 24th of March, at a 200 000 m2 Transnet-owned wax-production facility, and eventually razed the building to the ground. Alex Gloster, a Durban Fire Department commander on the scene of the factory fire, said that firefighters had done a 'world class job' on what was '…certainly the biggest fire of my career.'
According to some reports, the fire hydrants at the warehouse were not being serviced regularly. As authorities investigate these allegations (as part of their overall probe into the incident), let's take the opportunity to review the basic fire safety standards every company should meet.
Inspecting your site
You must nominate a responsible person to inspect all fire hose reels, hydrants and booster connections on site at least once a month (or more frequently if required) to ensure their:
accessibility
reliability
usability.
8 points you must include with your checks
Are the fire hose reels, hydrants and booster connects due for conditioning?
Is the frame of the fire hose reel fixed firmly to the wall?
Are all connections free from leaks? Are there indications of weeping?
Does any hose show signs of cracking or bleaching; sun damage, or damage from chemicals within the environment?
Is the hose reel frame showing signs of rust or deterioration from the weather or from abnormal conditions within the environment? Does it need reconditioning?
Where a gauge is fitted, is the water pressure to the hose reel, hydrant and booster connection at least 300 kPa?
Are the seals on the hose reel and hydrant broken?
Are there missing or broken parts on the fire hose reel, hydrants or booster connections?
Two non-negotiable actions to take
Action #1: If the water pressure is lower than 300 kPa, you must report it to the owner or the appropriate local authority.
Action #2: If any of the above points show that the hose reel, hydrant or booster connection:
has been tampered with
is damaged
is impaired
is leaking
is corroded
shows a service due date that has expired
is due for reconditioning
you must arrange for them to be reconditioned.
What should your inspection records include?
Every inspection must be recorded and initialled by a responsible person, and include:
the date on which the inspection was performed
the extent of any and all site repairs
a means of identifying any hose reel/hydrant/booster connection found to require reconditioning
whether all necessary reconditioning was arranged.
At a site similar to the Durban, with a floor surface area of 2 500 m2, you should also meet the following fire safety standards.
5 standards to stick to for hose reels
Firefighting hose reels that are installed in any building with more than two storeys (or in a single-storey building of more than 250 m2), must be supplied at a rate of one hose reel for every 500 m2. This is provided that they are not required in:
any building classified as a dwelling house
any dwelling unit in an occupancy classified as a domestic residence (where each unit is provided with independent access to the ground level).
Any hose reel installed in such a building must:
comply with the SANS 543 requirements
be installed in accordance with SANS 10105-1 and SANS 10400-W
be maintained in accordance with SANS 1475-2 requirements.
Any hose reel installed:
must be positioned so that the end of the hose can reach any point in the area it is meant to protect
in any building, shall bear, in a prominent position on the reel disc facing the user, a certification mark from an accredited certification body.
Where no water supply is available, two 9 kg (or equivalent) compliant fire extinguishers must be provided in place of every required hose reel.
5 standards to stick to for hydrants
Hydrants in positions subject to direction by the local authority will be provided in:
any building that exceeds 12 m in height
any building (excluding buildings classified as H4) of any height with a total floor area exceeding 1 000 m2.
No less than one hydrant per 1 000 m2 (or part thereof the total floor area) will be provided. Furthermore, no fewer than one hydrant per storey will be provided; this will be located in the firemen's lift lobby, or the emergency stairway where there is no firemen's lift, and will be distributed in such a way that the hose can reach every area it is intended to reach.
Any hydrant will, where the local authority requires it, be provided with:
an appropriate fire hose of 24 m or 30 m in length
couplings
a 16 mm internal diameter nozzle,
all of which shall comply with SANS 1128-2 requirements. This hose and nozzle will, when positioned in the open air or in any factory building, be kept in a suitable cupboard, provided that this requirement doesn't apply in any occupancy classified as J4.
You must install ground or raised hydrants in any:
industrial park
permanent amusement park
exhibition ground
shopping centre
group housing or cluster housing
townhouse complex
and must be placed in such a way that these are no further than 90 m away.
All hydrants must comply with SANS 1128-1 requirements.
NOSA ASSEMBLY WORKSHOP EVACUATION PLAN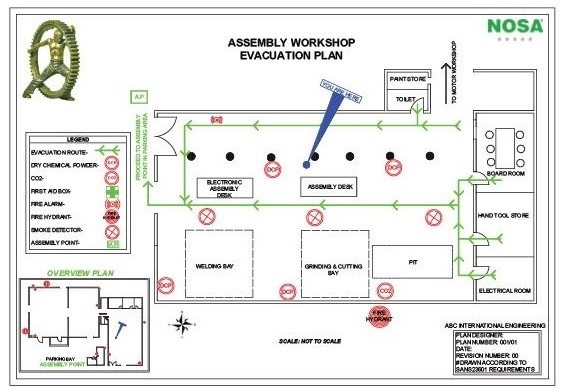 For NOSA fire safety consultancy services, contact Marthinus Parau on +27 12 492 12227 or view our services here
Click here and fill in in the form if you would like us to contact you
Sources:
http://www.timeslive.co.za/local/2017/03/25/Durban-factory-blaze-up-there-with-the-biggest-fires-in-South-African-history1
http://www.iol.co.za/news/south-africa/kwazulu-natal/durbanfire-warehouses-fire-hydrants-were-not-serviced-8367346
http://www.timeslive.co.za/sundaytimes/stnews/2017/03/24/IN-PICTURES-Massive-factory-blaze-blackens-Durban-skyline
http://ewn.co.za/2017/03/25/firefighters-in-durban-work-to-completely-put-out-fire