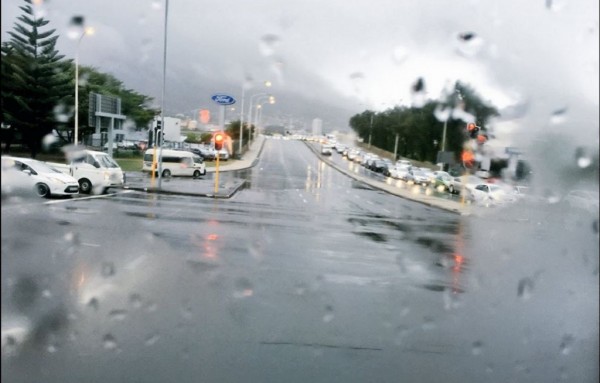 Today Cape Town residents are 'battening down the hatches' as a massive storm has hit the area, with roofs being blown off dwellings, roads closed and trees uprooted. A number of people have already been displaced, with residents doing their best to stay warm and dry, and working together to help those in need.
According to the South African Weather Service, a storm of this magnitude has not been experienced in the area for almost 30 years, and schools have been closed as a precaution. But, just because this hasn't happened in some time, doesn't mean it can't happen again. So here's how to prepare for heavy rains, and what to do in to stay safe in the midst of an unprecedented storm.
How to prepare for a flood
Identify the risk in your local area.
Prepare a home emergency plan, and identify risks around your home.
Remove leaves (from downpipes or gutters) or any other items that can increase the risk of flooding in your area.
Have an evacuation plan and ensure everyone in your family knows where to go to find shelter.
Prepare an emergency toolkit. This should include:
a first aid kit
torch
portable radio with batteries
candles and waterproof matches
drinking water
a multi-tool
whistle, and
emergency contact numbers.
What to do during flooding
Monitor current flood warnings. Listen to the radio for emergency warnings, evacuation advice and weather updates.
Avoid entering floodwater unless it is necessary, and never underestimate the strength of floodwater, even if you are inside a vehicle.
Follow all instructions from emergency authorities.
Turn off all electricity and water and take your cell phone with you.
Assist elderly and disabled neighbours.
What to do in a flood – in your car
Always turn on your vehicle's headlights in wet weather.
In heavy rain use the brighter (rear fog lights) setting for your car's tail lights.
Make sure your wiper blades are in good condition and do a clean sweep.
Do not allow the inside of your car's windows to mist up. Switch on front and rear screen de-misters and your aircon – yes, you read right. Your aircon dries the air and removes mist almost instantly.
Check your tyre tread: The legal minimum is 1 mm but for safety's sake make sure it's three times that.
Worn shock-absorbers don't keep the rubber hard down on the road; no road contact = no ABS, no grip and very little braking.
Cloudy and rainy weather means poor visibility. Take extra care when overtaking – and remember not all drivers coming towards you will have their headlights on.
Adjust speed and following distance; at least six seconds to the car ahead. Ensure you can stop within the visible area ahead.
Avoid abrupt acceleration, braking and steering, which can result in a skid.
Don't drive through deep water. It could damage your car and possibly cost you your life.
If you have no option but to drive through such water, then drive slowly in a low gear, holding the steering wheel steady.
After driving in heavy rain allow your brakes to dry – especially if your vehicle has drum brakes.
If you experience car/bike trouble turn on your hazard lights and try to move completely off the road. If possible, ensure that you have a reflective warning triangle to erect some distance behind your vehicle.
Never drive into water covering the road. You do not know how deep it is or if the road is washed away.
Turn around and go the other way.
Look out for flooding at highway dips, bridges and low areas.
If the vehicle stalls, leave it immediately and seek higher ground.
Be cautious, especially at night when visibility is impaired.
Do not park your vehicle along streams, particularly during threatening conditions.
What to do if the storm is accompanied by gale force winds
Disconnect your appliances.
Stay inside well clear of windows, sheltering in the strongest part of the house (internal hallway, bathroom or cellar).
Remember to keep an emergency kit with you (see above for what to include).
If possible stay in secure shelter.
Avoid driving by road as far as possible, stay in your vehicle if caught on the road, with the car handbrake on and parked well clear of trees, powerlines and possible flooding.
Never drive, ride or walk in floodwaters.
Fill buckets, sinks and baths with water in case the water supply becomes restricted.
How to protect your business in a storm
Move as much contents as possible to higher floors.
Raise heavy electrical items off the floor, and place them on bricks.
Unplug electrical/sensitive items and if possible move them high up or store them on higher floors.
Secure any items that are stored externally, which might move and cause damage on impact.
Turn off mains supplies and close off flow valves.
Fit a temporary toilet pan seal to prevent the flood water coming back up the toilets.
Keep important documents in watertight plastic bags in a high place or even away from the premises.
Put into place temporary flood barriers for doors and windows.
Stop any deliveries due at the premises.
What to do after a flood
Before entering your house, wait until the water has dropped below floor level.
Check with electricity and water authorities to know whether it is safe for you to use these resources.

Be aware of contamination if water sources have been flooded; this could be unsafe to drink.
Important contact numbers for people in the Cape
City of Cape Town: 107 landline or 021 480 7700
Police Flying Squad: 10111
City of Cape Town General Emergency: 107
Cell phone Emergency: 112 (MTN, Vodacom, Cell C and Telkom)
Red Cross Children's Hospital Poison Line and the Tygerberg Hospital Poison Information Centre: 0861 555 777
Safe Schools: 0800 45 46 47
Western Cape Government: 0860 142 142
Mountain Rescue: 021 948 9900
Disaster Management: 080 911 4357
Eden District: 044 805 5071
Central Karoo: 023 414 2603
Sources:
http://www.news24.com/SouthAfrica/News/live-cape-storm-20170607
http://www.news24.com/SouthAfrica/News/cape-town-prepares-for-mudslides-flash-floods-gale-force-winds-20170606
http://www.traveller24.com/News/Alerts/alert-heres-what-you-need-to-know-about-dikwednesday-storm-headed-for-sa-20170606
http://www.wheels24.co.za/News/Guides_and_Lists/caught-in-heavy-rain-heres-what-sa-motorists-should-do-20160726
http://www.ndml.co.uk/articles/storm-ways-to-protect-business/