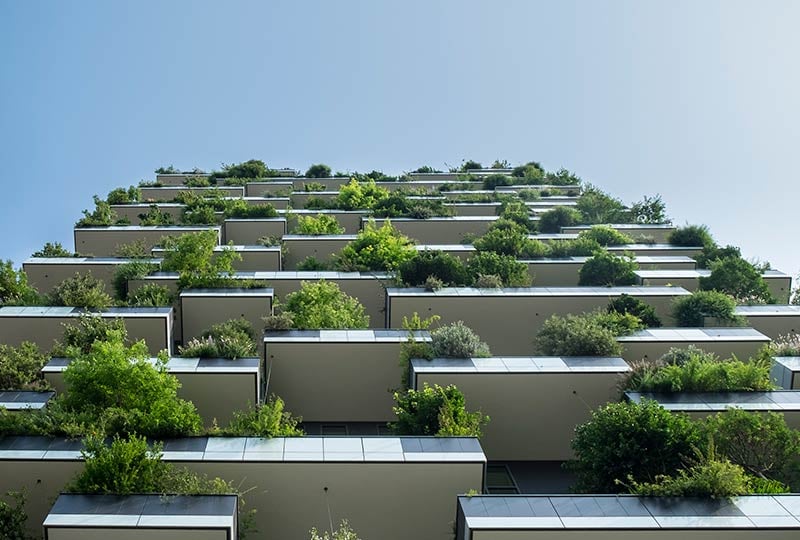 Commercial buildings are responsible for some of the greatest carbon emissions. But, some responsible-minded companies have made a concerted effort to adapt their buildings as much as possible, to ensure they meet new environmental standards. By next year, as many as 48% of new non-residential building construction will be green, according to estimates. Sustainable architecture is no longer rare, and that's something that's happened fairly quickly – from 2005 to 2012, the number of new green building designs jumped by 39%.
So when there's an award for the best sustainable architecture, it's no longer enough to have just a few ad hoc features, such as a rainwater collection system. A new roundup of the top 10 current examples of sustainable architecture – selected by the American Institute of Architects' Committee on the Environment – showcases projects that have a 'thoroughly integrated' approach to sustainable design.
Take inspiration from these 10 examples of what companies and cities are doing worldwide when it comes to going green. From the German parliament to a homeless centre in Oregon filled with green space, these days, the best sustainable architecture goes far beyond a few rooftop solar panels.
The German Reichstag


The building's energy system is based upon a mix of solar energy, geothermal power, combined heat and power, biofuel generators, and innovative ventilation. Special insulation limits heat loss.

More than 80 percent of electricity needed is generated internally. A geothermal installation cools the building in summer and provides heat in winter. Annual CO2 emissions are thus reduced from 7 000 to less than 1 000 tons.
The Bird's Nest


Designed by Swiss architects Herzog & De Meuron, the stadium incorporates solar power and rainwater collection. Since all of the facilities inside the stadium are self-contained units, it is possible to do largely without a solid, enclosed facade. This allows for natural ventilation of the stadium, which is the most important aspect of the stadium's sustainable design.
Ecological Building

The Wayne L. Morse U.S. Courthouse in Eugene, Oregon was awarded the US LEED Gold certification for its use of environmental enhancements and energy efficiency. Reduced irrigation through native, drought-tolerant plants, combined with waterless urinals and low-flow toilets, and showerheads reduce water use by more than 40 percent, compared with a conventional facility. The building materials:

have a high-recycled content
are regionally available
need minimal maintenance, and
have low chemical emissions.
Urban Sprawl
A suburb in Cincinnati, Ohio's urban planning is working towards better housing planning. Badly planned housing with little or no public transportation increases traffic and wastes resources. Without proper infrastructure or nearby shopping, residents are forced to use their car for every errand. Residents of sprawling neighbourhoods thus tend to emit more pollution per person. Due to their low population density, sprawls also use up a lot of land and degrade land and water quality.
New Urbanism
New urbanism, an American design movement, arose during the early 1980s out of frustration with sprawling cities. One example of this is Prospect New Town in Colorado (in the US), a walkable neighbourhood designed to contain a diverse range of housing, jobs, and community buildings. With its mix of aggregate housing, traditional detached homes, workplaces and shops, Prospect New Town faced initial criticism, but the town's planners then won the Governor's Smart Growth Award in 1996.
The K2 Housing Project

The K2 apartments are the most environmentally sustainable public housing development in Australia. The apartment complex uses only renewable energy and has a life span of up to 200 years. It is made partially of recycled timber and employs rainwater harvesting, grey water re-use, solar water heating and photovoltaic panels. According to the Victorian State Government's Office of Housing, its K2 apartments use 55% less electricity, 46% less gas, and 53% less water than conventional apartments.
Solar Decathlon
This event saw 18 collegiate teams from the United States, Canada, Puerto Rico, and Spain competing for which solar-powered house offered the best mix of aesthetics, convenience, energy production, and efficiency. Each house also had to produce enough 'extra' power to run an electric car.
Arizona State University


A sterile and unwelcoming health clinic was transformed into a light-filled LEED-platinum building. It contains outdoor green spaces for yoga and meditation.
Homeless Shelter
A new homeless shelter in Portland, Oregon uses grey-water recycling, solar hot water, and a highly efficient design. It will save $60 000 in energy costs each year.
The Packard Foundation
The new building helps bring together employees who used to work at sites scattered throughout the city in one centrally-located downtown location near public transportation.
Sources:
http://www.fastcoexist.com/3029434/the-top-10-most-innovative-sustainable-buildings-of-2014
https://www.allianz.com/en/about_us/open-knowledge/topics/environment/articles/090717-ten-great-examples-of-green-building-worldwide.html/