Picture it: Erika in finance comes to you complaining of a terrible headache. Good thing you have that aspirin in the first aid kit right? Wrong. It is in fact against the law to keep any headache tablets in your workplace kit. What if Erika has blood issues, and the tablet's effect sets off a complication? Then you're liable for what happens to her next. A simple mistake with devastating consequences.
Here's your comprehensive go-to guide for what you should keep in your first aid kit, including a checklist of the minimum requirements (to ensure your kit remains legally compliant).
Why is a first aid kit so useful? No matter what, accidents are bound to happen. While you won't be able to prevent them all from taking place, you can certainly minimise the damage done by having help nearby. A first aid kit is one such 'assistant'.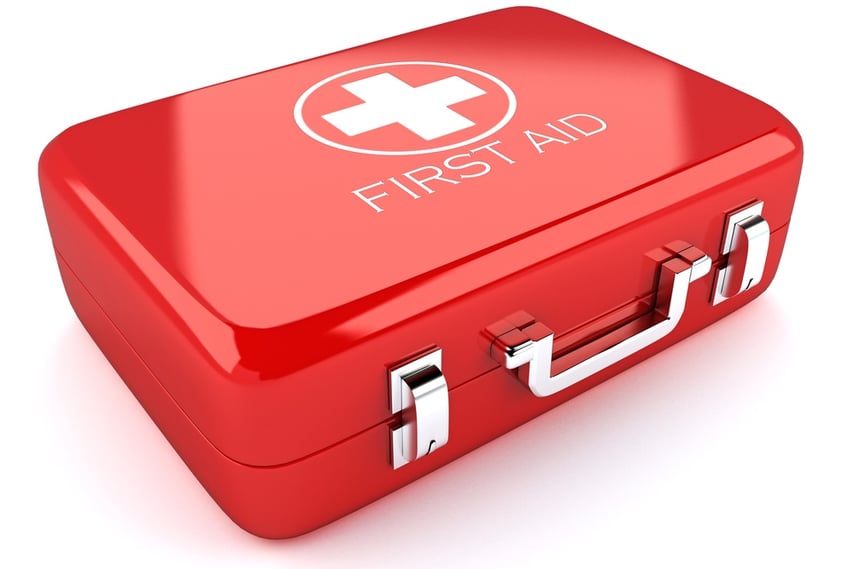 ---
Frequently asked questions: First aid kits
When should I provide first aid boxes?
The regulation states that first aid facilities must be provided where more than five employees are employed at a workplace.
Where should I place my first aid box(es)?
"The employer must provide a first aid box or boxes at or near the workplace, available and accessible for the treatment of injured persons at that workplace."
How many first aid boxes do I need to provide?
The number of boxes you require should be determined by taking the following into account:
The type of injuries that are likely to occur at your workplace
The nature of the activities performed
The number of employees employed at such workplace
What signage should I have in place?
You should post a prominent notice or sign in a conspicuous place at your workplace, indicating where the first aid box or boxes are kept, as well as the name of the person in charge of the first aid box or boxes.
How often should I replace the contents of first aid boxes?
Although there is no specified review timetable, many items, particularly sterile ones, are marked with expiry dates. You should replace these by the dates given and dispose of the expired items safely. In cases where sterile items have no dates, it would be advisable to check with the manufacturers to find out how long they can be kept. For non-sterile items without dates, it is a matter of judgement, based on whether they are fit for purpose.
Do special circumstances or employee conditions apply?
If there are employees in your organisation who have been diagnosed with particular conditions, it is not a bad idea to store patient-specific medications. Also, keep additional supplies of water, warning tape, blankets, and yellow cones in accident-prone areas.

Remember: Don't lock your first aid kits. These should always be available to your staff.
What should always be included in my first aid box?
Cold packs
Adhesive tapes
Bandages
Scissors
Eyewash
Antibacterial hand cleaner
Disinfectant
Is there any emergency equipment that I need to include?
Where an employee is exposed (or may be exposed) to a potential hazard or injury to the eye through contact with a hazardous biological agent or hazardous chemical substance, then you need to make sure there is an eye-wash fountain, or similar facilities. This should be in the immediate vicinity of the workplace of such an employee, and you need to ensure this employee is trained to use such a facility.
Where an employee is exposed to a potential hazard of injury to or absorption through the skin as a result of a sudden contact with a large amount of hazardous chemical substances or hazardous biological agents, then you need to make sure that there is a fast-reacting deluge shower with clean water, or a similar facility. This should be in the immediate vicinity of the workplace of such an employee, and you need to ensure this employee is trained to use such a facility.
---
Checklist: Minimum contents of a first aid box
Note:
In the case of shops and offices, the quantities stated under items 1, 8, 9, 10, 14, 15, 17, and 18 may be reduced by half.
| | |
| --- | --- |
| Item 1 | Wound cleaner/antiseptic (100 ml) |
| Item 2 | Swabs for cleaning wounds |
| Item 3 | Cotton wool for padding (100 g) |
| Item 4 | Sterile gauze (minimum quantity 10) |
| Item 5 | 1 pair of forceps (for splinters) |
| Item 6 | 1 pair of scissors (minimum size 100 mm) |
| Item 7 | 1 set of safety pins |
| Item 8 | 4 triangular bandages |
| Item 9 | 4 roller bandages (75 mm x 5 m) |
| Item 10 | 4 roller bandages (100 mm x 5 m) |
| Item 11 | 1 roll of elastic adhesive (25 mm x 3 m) |
| Item 12 | 1 non-allergenic adhesive strip (25 mm x 3 m) |
| Item 13 | 1 packet of adhesive dressing strips (minimum quantity 10 assorted sizes) |
| Item 14 | 4 first aid dressings (75 mm x 100 mm) |
| Item 15 | 4 first aid dressings (150 mm x 200 mm) |
| Item 16 | 2 straight splints |
| Item 17 | 2 pairs large and 2 pairs medium disposable latex gloves |
| Item 18 | 2 CPR mouthpieces or similar devices |
| Item 19 | An adequate supply of absorbent material for the absorption of blood and other body fluids spilled |
| Item 20 | Disinfectant to disinfect the area after cleaning up blood and other body fluids spilled |
| Item 21 | 2 pairs large and 2 pairs medium disposable rubber household gloves |
| Item 22 | A suitable sized impervious bag for the safe disposal of blood and other body fluid contaminated biohazard materials |
---
Sources: